---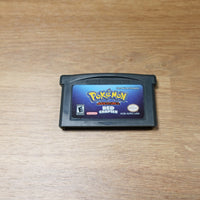 Sale
Reproduction Gameboy games! All the fun and memories of the original adventures without those collector prices!
These games function and play exactly like the originals.
Start a fresh journey today!
All games are in English.
This hack follows the events of the Pokémon Adventures Manga with added plots, which tends to make the game more violent and brutal than normal Pokémon games. Several characters from the anime also appear, such as Ash Ketchum, Delia Ketchum, Officer Jenny, Nurse Joy, Professor Ivy, Jessie, James, Meowth, and Butch. The gym leaders from the Orange Islands also appear, now working for Team Rocket.
Protective game case included!
These games will function in any original or modified Gameboy Advance system.
Functionality is not guaranteed in Overclock modded systems.